(Please do not use this biography for concert programmes)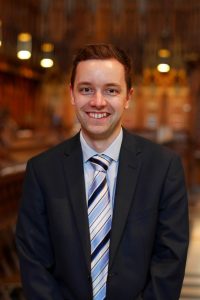 Jeremy is the Assistant Director of Music and Sub Organist at Rochester Cathedral, a role he has held since September 2018, in which he accompanies and conducts the cathedral choirs on a regular basis as part of the daily round of services. Jeremy combines his work at the cathedral with Organ and Piano tuition at The King's School, Rochester, and is Assistant Director of Music of the Rochester Choral Society.
Born in Surrey in 1992, Jeremy received his first musical training with the Piano at the age of eight. Having originally been self-taught on the organ, he obtained a music award to study at Caterham School in 2003, where he learnt the organ with Jeffrey Gray, followed by Stuart Thompson and Gerard Brooks. Whilst continuing his academic studies, Jeremy gained an ATCL performance diploma in Piano from Trinity College London in 2008.
Jeremy began his degree at the Royal Academy of Music in 2010, studying with Susan Landale, David Titterington and Clive Driskill-Smith. Whilst at the Academy, he was awarded the C H Trevor Prize and Gladys Aitken Award, and performed in masterclasses with Olivier Latry, Bine Bryndorf and Eric Lebrun, as well as a performance class with John Eliot Gardiner. After his first year at the Academy, he received his ARCO diploma, and performed on two of the Academy's residential tours to Neresheim Abbey in Southern Germany. In October 2013, Jeremy played in the opening concert on the new Kuhn Organ in the Duke's Hall, on which he gave his final recital the following May. Jeremy combined his studies at the Royal Academy with Organ Scholarships at Methodist Central Hall Westminster and the London Oratory, before embarking on a two-year Organ Scholarship at Peterborough Cathedral.
At Peterborough, Jeremy performed with the cathedral choirs in performances of Handel's Messiah, Fauré's Requiem and Bernstein's Chichester Psalms, and on tours to The Netherlands and Germany. After completing his Organ Scholarship at Peterborough, Jeremy spent two years at York Minster as the Assisting Organist, where he accompanied the choirs for their daily services and frequent concert schedule.
Jeremy is a Fellow of the Royal College of Organists, and also holds the LRAM teaching diploma from the Royal Academy of Music. He has continued his organ studies with Gordon Stewart, and is in increasing demand as an  accompanist and continuo player, having recently accompanied the York Musical Society, The Cranbrook Choral Society and The Bridgeman Singers, as well as the St. Mary's Choir School in Reigate, and the Kantanti Ensemble. Jeremy has performed live on BBC Radio 3 and 4, and has given organ recitals across the country in venues including the Cathedrals of St. Paul's, St. Edmundsbury, Westminster and Southwark, as well as Westminster Abbey and Reading Town Hall.
Aside from his musical activities, Jeremy's other interests include cycling, classic cars, and old technology.